Design is, in many ways, the art of persuasion.
We live in an age where businesses live or die by their user experience. In response, the design process is advancing and evolving to become a more holistic process that is focused on the consumer, by improving their lives in small but important ways. For Delhi-based interface designer Sarthak Bahal, it's not about superfluous design or a magic skill for convincing people to do things, "Web trends are changing and progressing every day. We are in a very interesting time where companies are going through a paradigm shift trying to get their MVP on a web or mobile platform."
Can you describe your ideal workday as a UI designer?
I'd say it's when the brief is comprehensive and the client is tech-savvy.
What are some guiding principles that you follow?
There's a quote by the legendary industrial designer Dieter Rams which goes, a good design is as little design as possible. I strive for this particular principle, by highlighting and accentuating the absolute essentials for efficient function, while letting the negative spaces and overall minimalism bring out the aesthetics.
That being said, in order to create an aesthetically pleasing and adequately functional product, a UX designer must deal with the mess of planning and strategy. The simplest looking things are, most of the time, the hardest to create. The first steps to doing actual design work would always be to start with wireframing which is essentially the skeleton of the product. Designing a website or an app without wireframes is like constructing a building without blueprints.
I believe that the job of a UI/UX designer entails a lot of pre-design duties. Understanding the user demographic, establishing ideal use cases, using those insights to map out the functional and navigational flows within the platform and subsequently creating a sitemap and an information architecture which helps list out every element in every screen. If done adequately enough, the design almost creates itself.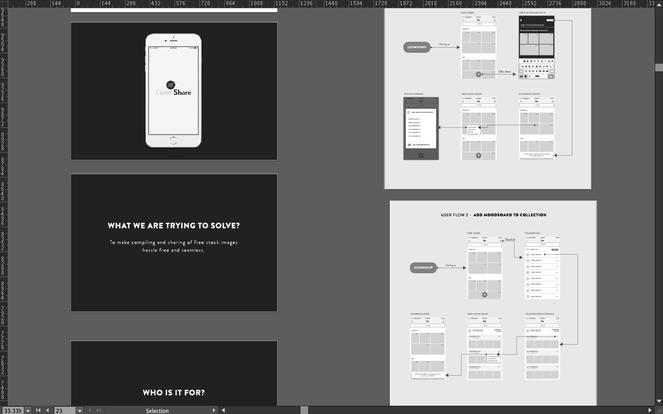 What tools or technologies do you use?
I've got a few tools in my UX design starter pack:
Trello, for scrum and creating task buckets. Slack, for communication. Zeplin, for asset handover (to front-end developers) and to create style guides. Adobe Illustrator, for wireframing, iconography, illustrations, branding and graphics. Adobe Photoshop, for UI designs, photo editing etc. Marvel or POP, for prototyping.
Although I am planning to switch to Adobe XD, wherein you can perform end to end designs for a web or mobile products from wireframing to designing to prototyping.
What's your best time-saving trick? Any other tools or methods UI designers use to increase their speed and efficiency?
My best time-saving trick? One word: freebies. They're a designer's best accomplice.
I am constantly subscribing to the plethora of design inspiration platforms out there and regularly receive newsletters with offers and deals on different design assets. Icon packs, background gradients, photoshop actions whatever you can get your hands on. If it's free, you download it. When working in a creative agency or studio setup, always keep sharing ideas, inspirations and most importantly, design assets with fellow designers.
What are the essential qualities required for your job?
A penchant for problem-solving, a user first approach and an axiomatic unenthusiasm for fluff – that last one is crucial.
What are the biggest challenges you face as a designer?
A lack of knowledge amongst non-designers about a designers process and how they interact with software. Comments like, It's just a color change! You just have to change the font size and move it a bit! These are just some of the most frustrating bits of feedback you receive almost on a daily basis. Especially while designing a web or mobile product, which is complexed, intricate and interconnected like a living ecosystem. Moving one single element on a single screen could topple your entire design.
In India, people are just now realzing the importance of good design and subsequently designers. Right now though, people still consider UI/UX designers as mere tools and not as lead creators of the core product.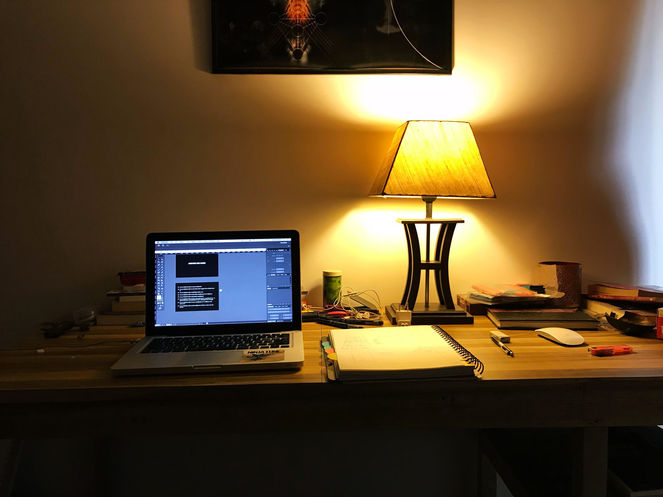 Some people say that much of your success depends on your workstation. How would you describe yours?
Lots of pens and paper as I like to do quick sketches, write down ideas for concepts, doodle etc. It is a place I feel most in control and I know exactly where everything is despite the hot mess.
What music do you listen to while you work, or do you prefer quietness?
If I need to really crunch out designs quickly, I like to get wired in and listen to progressive and experimental rock. Jazz and downtempo electronic while conceptualizing or doing personal artworks.
What are some of the things you're most excited about on the web today?
Tools that make personal and work life more efficient, optimal and organized. I love what is happening in the SAAS product design space.
Images by Sarthak Bahal.